Recycling
Confidential Document Destruction
When you need to dispose of sensitive material efficiently, we provide the trusted services you need.
We provide secure/locked tubs at your place of business.  At your company's request, we pick up your confidential documents, shred them at our facility and provide you with a certificate of destruction.
*The shredded paper is baled at our facility and taken to a recycling facility.
*Other items we can destroy include: ID badges, credit cards, company stationary as well as hard drives/data.
*We are Licensed and Bonded.
Please call for details about pricing. 218-681-7312
We partner with Pennington County for the collection of
recyclables at the following locations
Thief River Falls Hugo's – St. Hilaire County Shed – Goodridge Lion's Hall
Accepted items at these locations
Plastic Containers types 1 and 2 – Glass Bottles – Tin & Aluminum
Magazines – Newspapers – Corrugated Cardboard
These items must be put in the proper recycle bin. They must not be in plastic bags.
Containers must be empty. No food in containers.
 No other items are accepted at these locations.
Examples of acceptable recyclable items include:
 Plastic containers number 1 and number 2 only.

ie: laundry detergent containers, milk jugs, pop bottles, peanut butter containers, etc.
remove caps/covers
no motor oil jugs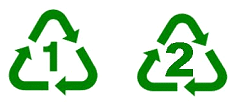 Aluminum and tin

no tin foil
both go in same container
not required to rinse, but appreciated

Glass

any color glass bottles
remove caps/covers
not required to rinse, but appreciated
no window/windshield glass
no bulbs

Newspaper

newspaper and inserts
phone books

Magazines

any glossy magazine or catalog

Corrugated Cardboard

corrugated only
must be broke down and flattened
no cereal, potato chip, or beverage boxes
no pizza boxes
no packing material

Oil

accepted at no charge
St. Hilaire and Goodridge recycling collection area
1345 Barzen Ave. S, behind Les's Sanitation  (filters accepted here is as well)
Examples of  recyclables we do not accept at these county recycling collection locations:
**paint, chemicals, pesticides, tires, fluorescent bulbs, batteries, TV's, computers, microwaves and Freon appliances.
These items are accepted at our facility.
**see "recyclable disposal fees"  page for how to dispose of the above listed items.
Please call our office for details. (218)-681-7312.